About Us
Jack's Place is a Fish & Chips takeaway in Sheffield. Why don't you try our Sausage Special or Diet Coca-Cola?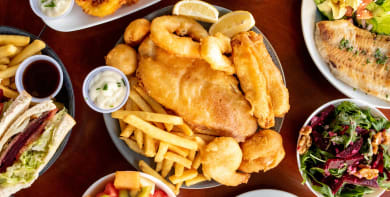 Reviews
357 reviews
Ann
"Food was hot and lovely, will be ordering again"
19/01/2021
Ian
"Another top quality meal from Jacks place, always good food delivered on time."
19/01/2021
Shane
"Good food, fast delivery"
17/01/2021
David
"Excellent food. Very fast delivery by a pleasant man. Brilliant. I highly recommend their kebabs and cheesy chips."
17/01/2021
Menu
BBQ Burger Half Pounder
With a tasty BBQ sauce
£4.50
BBQ Burger Quarter Pounder
With a tasty BBQ sauce
£3.50
American Burger Half Pounder
With cheese, fried onion & mushroom
£4.50
American Burger Quarter Pounder
With cheese, fried onion & mushroom
£3.50
Cheeseburger Half Pounder
With sliced cheese
£4.00
Cheeseburger Quarter Pounder
With sliced cheese
£3.00
Chicken Burger Half Pounder
£4.20
Chicken Burger Quarter Pounder
£3.20
Italian Burger Half Pounder
With cheese & pepperoni
£4.50
Italian Burger Quarter Pounder
With cheese & pepperoni
£3.50
Mexican Burger Half Pounder
With cheese, fried onions, peppers & jalapeno
£4.50
Mexican Burger Quarter Pounder
With cheese, fried onions, peppers & jalapeno
£3.50
Mixed Burger - Half Pounder
Beef & chicken burger topped with cheese
£4.50
Plain Beef Burger Half Pounder
£3.80
Plain Beef Burger Quarter Pounder
£2.80
Supreme Burger Half Pounder
With cheese & Thousand Island dressing
£4.50
Supreme Burger Quarter Pounder
With cheese & Thousand Island dressing
£3.50
Chicken Donner Naan Kebab Large
£7.50
Chicken Donner Naan Kebab Regular
£6.50
Chicken Tikka Naan Kebab Large
£7.50
Chicken Tikka Naan Kebab Regular
£6.50
Meat Donner Naan Kebab Large
£6.00
Meat Donner Naan Kebab Regular
£5.00
Mixed Donner Naan Kebab Large
£7.50
Special Donner Naan Kebab - Large
£8.00
Mixed Donner Naan Kebab Regular
£6.50
Donner Meat & Chips Large
£6.50
Donner Meat & Chips Regular
£5.50
Donner Meat in Breadcake - Regular
£3.50
Chicken Donner & Chips Large
£7.50
Chicken Donner & Chips Regular
£6.50
Chicken Donner in Breadcake - Regular
£4.50
Chicken Donner Kebab Large
£6.50
Chicken Donner Kebab Regular
£5.50
Mixed Donner & Chips Large
£7.50
Mixed Donner & Chips Regular
£6.50
Mixed Donner in Breadcake - Regular
£4.50
Mixed Donner Kebab Regular
£5.50
Sausage Special Curry
With chips & your choice of sauce
£2.50
Sausage Special Gravy
With chips & your choice of sauce
£2.50
Sausage Special Peas
With chips & your choice of sauce
£2.50
Scampi Meal
Including chips & a can of soft drink
£4.00
Mixed Donner Naan Kebab - Regular
Chicken Naan Kebab - Regular
Donner Naan Kebab - Regular
Chicken Tikka Begum Behar
Chicken Tikka Bhuna Arehi
Chicken Tikka Brandy Masala
Chicken Tikka Garam Masala
Chicken Tikka Mild Masala
Chicken Tikka Mysorri Pasanda
Chicken Tikka Punjabi Masala
Chicken Tikka Shahi Chasni
Lamb Tikka Mysorri Pasanda
Lamb Tikka Punjabi Masala
Family Pack
8 Pieces of chicken, 2 chips & a large bottle of Pepsi
£14.00
Jack's Fried Chicken & Chips 1 Piece
£3.00
Jack's Fried Chicken & Chips 2 Pieces
£4.00
Jack's Fried Chicken & Chips 3 Pieces
£6.00
Jack's Fried Chicken & Chips 4 Pieces
£8.00
Jack's Fried Chicken & Chips with Salad & Sauce 1 Piece
£3.50
Jack's Fried Chicken & Chips with Salad & Sauce 2 Pieces
£4.50
Jack's Fried Chicken & Chips with Salad & Sauce 3 Pieces
£6.50
Jack's Fried Chicken & Chips with Salad & Sauce 4 Pieces
£8.50
Battered Mini Chicken Fillet Bites
£3.50
Nuggets Meal
Including chips & a can of soft drink
£4.00
Ben & Jerry's 500ml Choc Fudge Brownie
£5.95
Ben & Jerry's 500ml Cookie Dough
£5.95
Rubicon Passionfruit - 0.33L
£1.00
Donner Wrap Without Chips
£3.50
Chicken Wrap Without Chips
£4.50
Naan Kebab Meal Deal
2 x Chicken OR donner naan kebabs OR mixed donner naan kebabs, 2 x chips, tub of garlic OR chilli sauce & a bottle of soft drink
£15.50
Munchy Box 1
Donner meat, chicken meat, chips, wedges, wings & 1 tub of any sauce
£10.50
Munchy Box 2
Donner meat, chicken meat, chips, wedges, wings, nan bread, tub of chilli sauce, mint sauce & garlic sauce & 1 large bottle of pop
£13.50
Jack's Chicken Box
Chicken meat, SFC chicken, chicken nuggets, popcorn chicken, chicken wings & chips
£11.00
Jack's Mini Box
Donner meat, chicken meat, 1 piece of Jack's Fried Chicken, wedges, chips & your choice of sauce
£7.50
Jack's Special Box
Donner meat, chicken meat, 1 piece of Jack's Fried Chicken, large sausage, chips, fish cake & your choice of sauce
£11.00
Contact Us
Find Us
8 Nethershire Lane, Sheffield, S50QA
We deliver to
S3, S35, S4, S5, S6, S61, S9